In Perfect Casting News, Viola Davis to Play Michelle Obama in First Ladies Anthology Series
---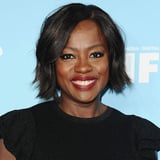 Showtime is developing an anthology series that tells the stories of Washington DC's first ladies, and they've hit the jackpot in perfect casting. Viola Davis – who is also primed to executive produce First Ladies along with JuVee Productions, the company she runs with her husband, Julius Tennon – has signed on to star as Michelle Obama in the drama series' first season. If there were levels to Black Girl Magic, this would be some top-tier sorcery that we can wholeheartedly get behind!
According to The Hollywood Reporter, Lionsgate and JuVee Productions have teamed up to develop the drama series, which will focus on the "personal and political lives of the country's most enigmatic heroes." Season one will follow Eleanor Roosevelt, Betty Ford, and of course, Michelle Obama. The series was originally on order for three scripts, but since then, Showtime has ordered a full season, having it join other network series including The L Word, Shameless, and On Becoming a God in Central Florida.
Also on board for the production are author Aaron Cooley, serving as the scriptwriter and executive producer alongside Oscar-winner Cathy Schulman and L.A.'s Finest's Jeff Gaspin. We'll keep you posted as development on First Ladies continues, but if it's anything like this casting news, we can't wait for more!
Print