---
It's Tuesday, which means it's time for new books! Here are a few of the books out today you should add to your TBR. This is a very small percentage of the new releases this week. Make sure to stick around until the end for some more Book Riot resources for keeping up with new books. The book descriptions listed are the publisher's, unless otherwise noted.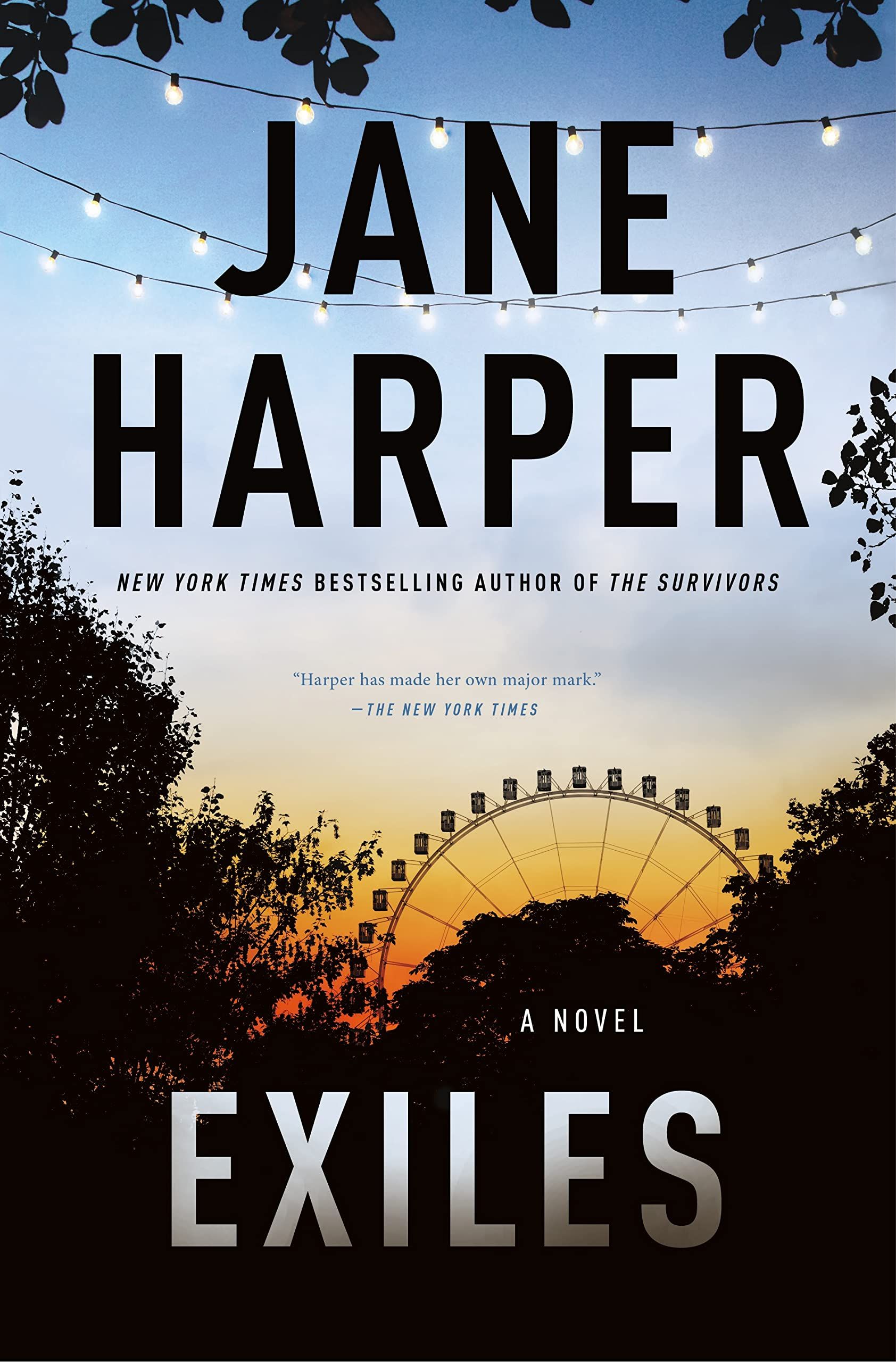 Exiles by Jane Harper
At a busy festival site on a warm spring night, a baby lies alone in her pram, her mother vanishing into the crowds.
A year on, Kim Gillespie's absence casts a long shadow as her friends and loved ones gather deep in the heart of South Australian wine country to welcome a new addition to the family.
Joining the celebrations is federal investigator Aaron Falk. But as he soaks up life in the lush valley, he begins to suspect this tight-knit group may be more fractured than it seems. Between Falk's closest friend, a missing mother, and a woman he's drawn to, dark questions linger as long-ago truths begin to emerge.
Reasons to read it: The best things about Harper's books are on full display here — a slow burn mystery, realistic characters, and a living, breathing Australian setting. While fans of Aaron Falk will be the most familiar with everything going on, you don't have to have read the previous books to enjoy this.
Maame by Jessica George
An unforgettable debut about a young British Ghanaian woman as she navigates her twenties and finds her place in the world, for readers of Queenie and The Other Black Girl.
Maame (ma-meh) has many meanings in Twi but in my case, it means woman.
It's fair to say that Maddie's life in London is far from rewarding. With a mother who spends most of her time in Ghana (yet still somehow manages to be overbearing), Maddie is the primary caretaker for her father, who suffers from advanced stage Parkinson's. At work, her boss is a nightmare and Maddie is tired of always being the only Black person in every meeting.
When her mum returns from her latest trip to Ghana, Maddie leaps at the chance to get out of the family home and finally start living. A self-acknowledged late bloomer, she's ready to experience some important "firsts": She finds a flat share, says yes to after-work drinks, pushes for more recognition in her career, and throws herself into the bewildering world of internet dating. But it's not long before tragedy strikes, forcing Maddie to face the true nature of her unconventional family, and the perils — and rewards — of putting her heart on the line.
Smart, funny, and deeply affecting, Maame deals with the themes of our time with humor and poignancy: from familial duty and racism, to female pleasure, the complexity of love, and the life-saving power of friendship. Most important, it explores what it feels like to be torn between two homes and cultures — and it celebrates finally being able to find where you belong.
Reasons to read it: From balancing different cultures to carving out a space for oneself outside of your family's identity, Maame navigates the tempestuous transition to independence that many children of immigrants experience. Maddie is yet another memorable character you want to win.
When Nar's non-Armenian boyfriend gets down on one knee and proposes to her in front of a room full of drunk San Francisco tech boys, she realizes it's time to find someone who shares her idea of romance.
Enter her mother: armed with plenty of mom-guilt and a spreadsheet of Facebook-stalked Armenian men, she convinces Nar to attend Explore Armenia, a month-long series of events in the city. But it's not the mom-approved playboy doctor or wealthy engineer who catches her eye — it's Erebuni, a woman as equally immersed in the witchy arts as she is in preserving Armenian identity. Suddenly, with Erebuni as her wingwoman, the events feel like far less of a chore, and much more of an adventure. Who knew cooking up kuftes together could be so…sexy?
Erebuni helps Nar see the beauty of their shared culture and makes her feel understood in a way she never has before. But there's one teeny problem: Nar's not exactly out as bisexual. The clock is ticking on Nar's double life, though — the closing event banquet is coming up, and her entire extended family will be there, along with Erebuni. Her worlds will inevitably collide, but Nar is determined to be brave, determined to claim her happiness: proudly Armenian, proudly bisexual, and proudly herself for the first time in her life.
Reasons to read it: With what has to be one of the best book titles this year, Sorry, Bro is equal parts funny, serious, and full of Armenian culture. Nar is charming and witty, and you'll be rooting for her and Erebuni's romance to flourish. And the message of self-acceptance, despite tradition, is always welcomed.
A young woman's past and present collide when she brings her white fiancé home to meet her Chinese immigrant parents in this vibrant debut from an exciting new voice in fiction.
Audrey Zhou left Hickory Grove, the tiny central Illinois town where she grew up, as soon as high school ended, and she never looked back. She moved to New York City and became the person she always wanted to be, complete with a high-paying, high-pressure job and a seemingly faultless fiancé. But if she and Manhattan-bred Ben are to build a life together, in the dream home his parents will surely pay for, Audrey can no longer hide him, or the person she's become, from those she left behind.
But returning to Hickory Grove is…complicated. Audrey's relationship with her parents has been soured by years of her mother's astronomical expectations and slights. The friends she's shirked for bigger dreams have stayed behind and started families. And then there's Kyle, the easygoing stoner and her unrequited crush from high school that she finds herself drawn to again. Ben might be a perfect fit for New Audrey, but Kyle was always the only one who truly understood her growing up, and being around him again after all these years has Old Audrey bubbling up to the surface.
Over the course of one disastrous week, Audrey's proximity to her family and to Kyle forces her to confront the past and reexamine her fraught connection to her roots before she undoes everything she's worked toward and everything she's imagined for herself. But is that life really the one she wants?
Reasons to read it: If you've ever felt yourself playing a role, you'll see a bit of yourself in the protagonist. Audrey makes for an interesting character study, as her positive traits are balanced with her flaws, and a lot of her issues with her family — her mother, specifically — will be relatable for many. Pick this up for a meditation on friendships, family, and the pressure of expectations.
About a Boy meets What We Do In The Shadows in the next fun genre-mashup from Mike Chen, featuring a punk-rock vampire learning to connect to the world again when her surly teenaged grand-nephew needs her, and her music, to get him through a tough time.
Louise knows first-hand that vampire mythos is all a lie. After all, she IS a vampire, and it doesn't involve glamour, speed, flying, or anything Anne Rice wrote about. Instead, it's actually pretty boring and quite lonely — the best part about it is the longevity, which Louise uses to go to see as many cool bands as she can. But all that changes when Louise's estranged brother Stephen arrives at her door with his 12-year-old grandson Ian.
Ian's father has recently been killed in a car accident and his mom is battling late-stage cancer. Stephen and Ian have taken a road trip while Ian's mom receives treatment, and while they thought they'd find a long-lost relative, they get Louise — who explains her youthful appearance with a story about her relation to theme. Louise empathizes with the young boy and invites him to stay for a weekend. Together, they bond over their love of music, playing guitar late into the morning. But when Ian learns her secret, he asks for something more than guitar lessons: He asks her to make his mom a vampire to cure her of cancer.
Problem is, Louise doesn't wish this loneliness on anyone. And a bigger problem — she can't turn anyone. Only rumored elder vampires can do so, and she doesn't even know where to find them. In an act of defiance, Ian runs away. As Louise pursues him, she comes across a path to these elder vampires — and a secret that could change how vampires view life and death forever.
With Ian missing, vampires on his tail, and a possible family squabble to finally reconcile, Louise hits the road to set things right — and discovers that caring about someone else is the most punk rock thing in the world. Especially for a vampire.
Reasons to read it: Pick this up for an interesting and unexpected take on vampires that leaves out the romance. The narrative shifts through time to tell a story of family and battling loneliness with music for an altogether unique tale.
In the heart of Greenwich Village, three women form an accidental sorority when a baby — belonging to exactly none of them — lands on their collective doorstep.
Lauren and her family — lucky bastards — have been granted the use of a spectacular brownstone, teeming with history and dizzyingly unattractive '70s wallpaper. Adding to the home's bohemian, grungy splendor is the bar occupying the basement, a (mostly) beloved dive called The Sweet Spot. Within days of moving in, Lauren discovers that she has already made an enemy in the neighborhood by inadvertently sparking the divorce of a couple she has never actually met.
Melinda's husband of 30 years has dumped her for a young celebrity entrepreneur named Felicity, and, to Melinda's horror, the lovebirds are soon to become parents. In her incandescent rage, Melinda wreaks havoc wherever she can, including in Felicity's Soho boutique, where she has a fit of epic proportions, which happens to be caught on film.​
Olivia — the industrious 20-something behind the counter, who has big dreams and bigger debt — gets caught in the crossfire. In an effort to diffuse Melinda's temper, Olivia has a tantrum of her own and gets unceremoniously canned, thanks to TikTok.
When Melinda's ex follows his lover across the country, leaving their squalling baby behind, the three women rise to the occasion in order to forgive, to forget, to Ferberize, and to track down the wayward parents. But can their little village find a way toward the happily ever afters they all desire? Welcome to The Sweet Spot.
Reasons to read it: This has as many eccentric, interesting characters as you'd expect in a story set in the Village in New York City. And Poeppel puts these well-developed characters in the most messy situations as they decide what family and monogamy means to them. Get ready for a taste of domestic chaos.
Other Book Riot New Releases Resources
All the Books, our weekly new book releases podcast, where Liberty and a cast of co-hosts talk about eight books out that week that we've read and loved.
The New Books Newsletter, where we send you an email of the books out this week that are getting buzz.
Finally, if you want the real inside scoop on new releases, you have to check out Book Riot's New Releases Index! That's where I find 90% of new releases, and you can filter by trending books, Rioters' picks, and even LGBTQ new releases!